Shape the world for Jesus Christ— one life at a time
People shape people by God's design. And God wants that to continue today. He even gives us a role model of how in the Bible—a man called Barnabas. Barnabas was an ordinary believer used by God for extraordinary purposes: shaping the lives of those around him. He's in the Bible as God's role model for you. Learn 15 practical and accessible "Barnabas Principles" that can help you represent Jesus today in the lives of those nearby.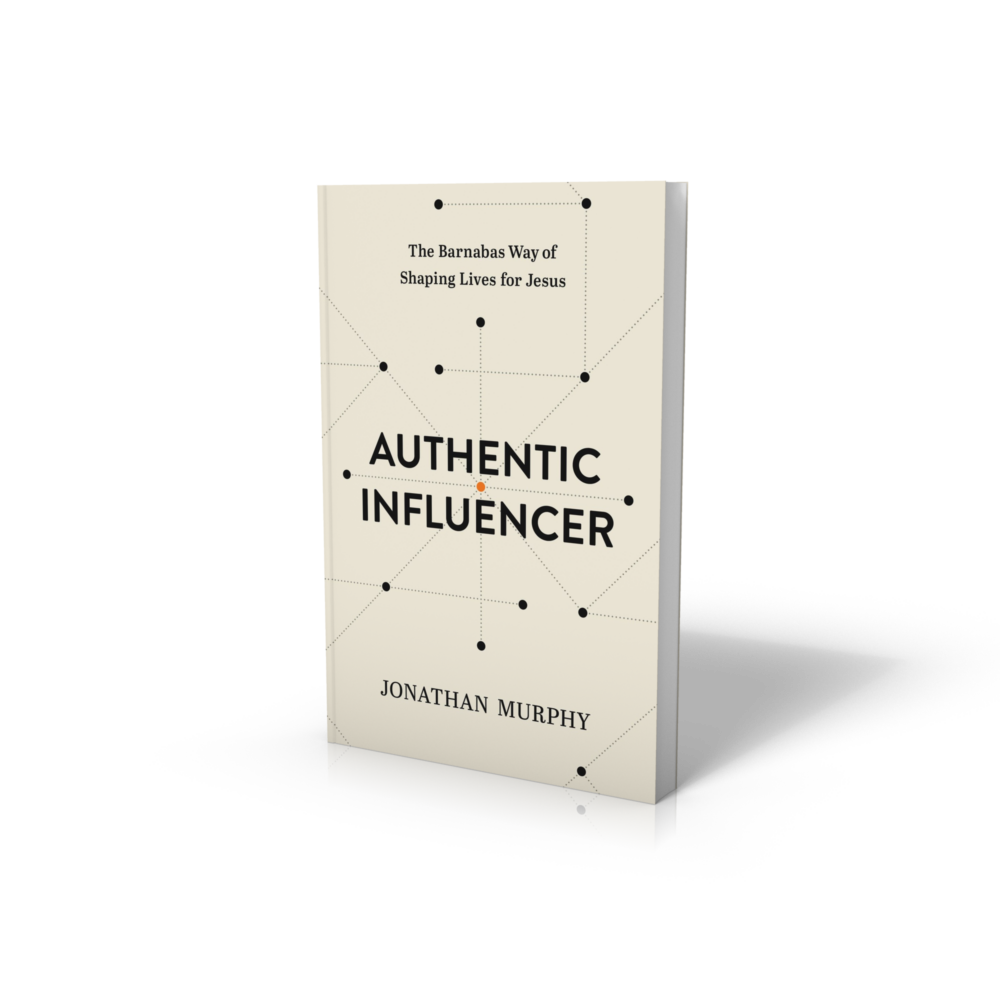 Authentic Influencer Endorsements
Instead of pretending to be something we're not, Jonathan Murphy invites us to become what we are. Barnabas points the way as a man, in Christ, like Christ who lived for Christ. Good stuff. Biblical, practical, and really helpful. It helped me.
Jonathan is a dear friend and a truly authentic pastor, leader, and follower of Jesus. Authentic Influencer is his study and insight into Barnabas, which could almost be autobiographical! I've had the blessing of walking with Jonathan as this resource has come to fruition, and I'm excited for every believer to read it! It will not only encourage you, but it will inspire you to make a difference for Jesus.
God loves people. Every person was made for God and is worth influencing for Him. There is no higher calling than to shape a life for Christ. And we all get to do it! But how? Jonathan Murphy's book Authentic Influencer helps us with the why and how. Every believer who wants to make a difference in another life for Christ will benefit from this book.
When an author writes a book about authentic Christian leadership, you want to be sure the writer is practicing what he's preaching. In the case of Authentic Influencer by my good friend, Jonathan Murphy, I can tell you firsthand that this is a book written by a genuinely humble and authentic Christian leader. His new book is simple and insightful, engaging and inspiring, as well as Biblical and practical. If you live out the principles modeled from the life of Barnabas in this book then your marriage, family, friendships, and neighborhoods will be impacted for Jesus Christ.
Barnabas is a saint who has too long lived in the shadow of other New Testament giants. Dr. Murphy brings this overlooked servant into the light to illuminate a humble example all of us need to emulate today.
What a guy, that Barnabas! Everybody needs one. And Jonathan Murphy will be yours, via the printed word. You know why? Because everybody needs to be a Barnabas, too, and Dr. Murphy, will nudge you in the direction to becoming one yourself. That's how nobodies like you and me become somebodies for everybody! And thus is the church of God made fully functional, all body parts optimally working as they ought to, building one another in love, until we all become like Christ for the glory of God. So take and read. Then go and encourage.
It's been said that "Influence is the exhalation of character." My friend Jonathan embodies that truth. He has been a consistent, faithful, encouraging influencer in my life and ministry for many years. I trust his wisdom and value his counsel. We all have influence for good or for bad. If you want to maximize your influence for good and for God, read this book. Those around you will be glad you did.
We all want to know how we can impact our culture for Christ. With the loss of respect for Christian truth in the public square, it seems most of us have become somewhat hesitant to boldly live out our faith. Jonathan Murphy draws on a lesser-known character in Scripture as a timeless guide. Through the life of Barnabas and with engaging illustrations, Dr. Murphy skillfully leads us through this great encourager's life as a model that all can follow. With wisdom and wit, Authentic Influencer is the catalyst we need to live out our faith in a society desperately needing to see Jesus.
Some people are basement people, and some people are balcony people. Basement people are those who bring you down and siphon you of life. Balcony people are those who lift you up and cheer you on. In this wonderful book my friend and fellow Ulsterman Jonathan Murphy introduces us to the consummate balcony person, Barnabas, Mr. Encourager himself. Read these insights on the life of an "authentic influencer" and be encouraged to encourage and influence those around you toward and for Christ. C. H Spurgeon said, "Carve not your name on marble, but on hearts." Study the life of Barnabas with Jonathan and start etching godliness on others.
By submitting your email address, you understand that you will receive email communications from Jonathan Murphy through Sacra Script Ministries. You may unsubscribe from these email communications at any time. If you have any questions, please review the Sacra Script Ministries Privacy Policy.